The Three Main Phases of Saugus Water Damage Restoration
8/9/2022 (Permalink)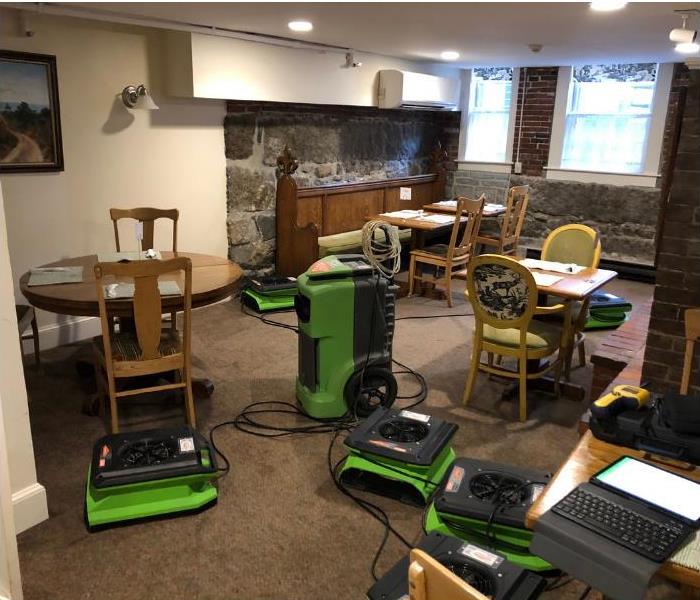 When faced with water damage, SERVPRO is prepared with restoration equipment and experienced technicians in Saugus.
Water Damage Restoration Requires Specific Actions
Few instances require the same level of urgency as an active water disaster like a burst pipe or leak. While the water can be shut off to the property to stop the flow, immediate action must be taken to protect the house, repair the damage, and dry the structure. Water restoration focuses on three key areas:
Mitigation
Drying
Cleanup/Repairs
The West Lynn water damage that homes and businesses can experience rapidly spreads and destroys sensitive building materials and contents. Not only can the moisture be a damaging scenario, but the possibility of secondary threats like mold should encourage fast action by experienced professionals. Our specialists work fast to provide needed mitigation services.
The Objectives of Water Damage Mitigation
Mitigation is the initial effort to reduce the severe impact that water disasters can often have on a property. Since many of these scenarios involve standing water and migrating moisture, it is important to get these emergency services started as soon as possible. Our rapid response team is equipped to help with:
Water Removal Services - Extractors from our inventory manage any standing water or pooling in the structure. These units can include pumps and vacuums.
Content Protection - Personal belongings are often in harm's way after water disasters. We can help in multiple ways, beginning with relocating these items to safer spots in the house. When damage exists, we have practical cleaning strategies on and off-site to help.
Inventory and Inspection - Post-water damage cleanup, recovery estimations, and restoration plans require knowledge of the structure's condition and impacted contents. Our production management can walk through the residence and document damage, loss, and needed corrective action.
Bulk Material Removal - The saturation of specific building materials can lead to a need for removing these impacted elements. The longer water exposure is a concern; the more sensitive construction materials can sag and warp under duress. Part of the mitigation process is removing these bulk materials through controlled demolition to prevent collapse and permit easier access to impacted structural cavities.
Needed Repairs - Repairs in this earliest stage include replacing portions of the plumbing system or installing new broken fixtures leaking water. Complete repairs and reconstruction efforts follow most of the restoration process.
The Focus of Effective Drying
Depending on the spread and severity of disasters, dozens of individual drying tools might be needed simultaneously. Between evaporation, ventilation, and absorption, we have many ways to manipulate the water content of a household to suit specific drying goals. We focus on three key areas:
Surface Drying - This is the focus of drying equipment like air movers to eliminate surface wetness by blasting the outermost layer with dry air.
Hidden Moisture Management - Trapped water and moisture that migrates to challenging areas like structural cavities require special equipment to resolve.
Environmental Moisture Removal - Dehumidification units manage environmental humidity by pulling moisture from the air.
Cleaning Up After Water Damage
Carpets can be damaged by water exposure, leaving behind mineral deposits and staining the fibers. To combat this damage that could be experienced, we keep cutting-edge carpet and surface cleaning products and equipment available during the restoration. Bonnet and hot water extraction approaches are particularly effective for lightly soiled carpets.
Because this SERVPRO team is a full-service contractor, we can handle the repairs and reconstruction often needed during water restoration. Replacing removed building materials, restoring the damaged plumbing, and other construction services are critical to making it "Like it never even happened."
West Lynn water damage is one of the most common callouts for our SERVPRO of Saugus, West Lynn roster. For this reason, we keep talented WRT-Certified technicians and cleaning specialists available 24/7 to mobilize fast after disasters. We are available to assist when you need it at (978) 744-0409.